Smith.ai is a superior 24/7 virtual receptionist service for businesses of all sizes, from solo to large organizations. Our North America-based receptionists handle calls, chats, and messages; provide bilingual answering; screen and intake new clients; schedule appointments; and make outbound calls to leads who complete your online forms, ensuring instant follow-up with new potential clients. With 30+ direct integrations, including Clio, MyCase, PracticePanther, LawPay, and Calendly, plus thousands more through Zapier, conversations are synced with your systems in real-time. Plans start at $240/month for virtual receptionists and include free spam blocking, plus a risk-free 14-day money-back guarantee. Live chat plans start at $0/month with simple per-chat ($10/chat) pricing, or $140/month for bundled chat pricing ($5-7/chat).
Resources from Smith.ai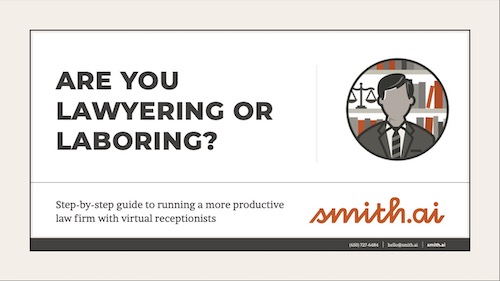 Tuesday 18th of January 2022
Want more qualified leads, happier clients & improved work life balance? Learn how virtual receptionists allow you to labor less and lawyer more.
Read More >>